Wall Street got a bailout. Main Street got a stimulus package. Average Joe and Jane Doe need help with their mortgage and the kids' tuition. Is there anything else on the Want List? How about BOOKS!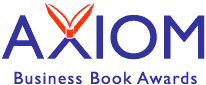 We also need books: cutting-edge, award-winning business books to educate and inform ourselves about how the financial meltdown happened, how to keep the recovery moving, and how to keep it from happening again. As it says on the Axiom Award medals, "Laurus Lego Erudito," or "Success Through Knowledge."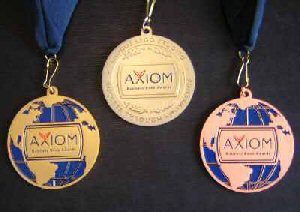 Jenkins Group is proud to announce these results of the fifth annual Axiom Business Book Awards, honoring the best business books published during the past year.
Feature
Axiom Awards 2012 Press Page
Jenkins Group is proud to announce the fifth annual Axiom Business Book Awards results, and happy to congratulate all those involved in creating the best business books published during the past year. We truly feel this list of Axiom Award-winning titles will supply the business book-reading public with an incredibly high-quality selection of material in a wide array of business topics, from Leadership and Entrepreneurship to Business Ethics and Philanthropy.
* * * * *
Here is the official Axiom Awards press release that went out to the business and publishing media, followed by important links and other info.
Thanks to all participants for supporting the Axiom Business Book Awards!
=========================
FOR IMMEDIATE RELEASE
=========================
Contact: Jim Barnes, Awards Director
1-800-644-0133 x.1011jimb@bookpublishing.com

Axiom Business Book Award Winners for 2012 Announced
(Traverse City, MI, Mar. 28, 2012) Jenkins Group is proud to announce the results of the fifth annual Axiom Business Book Awards, honoring the best business books published during the past year.The list of medalists in 21 categories has something for everyone with an area of interest or need for improvement. Best-selling authors Guy Kawasaki, Peter Sims and Hill Harper all won medals for their latest books, and corporate histories of IBM and Chevrolet both won gold medals.
All of this year's winning books epitomize the Axiom Award motto, "Success through Knowledge," by offering enlightenment in a wide range of topics. Dancing With Digital Natives (CyberAge) explores the challenges and benefits of co-working with the "Millennial Generation" or "digital natives" who have grown up digitally connected and tech-savvy their entire lives. This year's gold medal-winning business memoir is My Life in Leadership (Jossey-Bass) by Frances Hesselbein, whose many accomplishments include 14 years as CEO of Girl Scouts of the USA and is credited for turning the organization around. Thin Mints for everybody!
All of this year's Axiom Award-winning books will help prepare readers to meet the challenges of our post-bubble, post-busteconomy. The 72 Axiom medalists come from a broad spectrum of authors and publishers of all sizes from all over the English-speaking world. See the complete listing of all the winners online at http://www.independentpublisher.com/article.php?page=1523.
Hot-button topic of the year? Customer Service! Not surprising, in today's ultra-competitive business climate. According to Chip Bell and John Patterson, authors of Wired and Dangerous (Berrett-Koehler), the "new normal" customer is "restless, cautious, powerful, and potentially dangerous" because, armed with a smart phone and social media, he or she can "quickly do great harm to the reputation of service providers."
Re-boot of the year? 18 Minutes (Business Plus) is Peter Bregman's book about slowing down, reflecting, and letting go of lost causes. This book's theme struck our judges in its contrast to all the high-speed, socially connected, global market topics this year. That's what the Axiom Awards are all about – recognizing the diversity of ideas being written about and published today.
On the topic of diversity, gold medalist in a new category this year, Women/Minorities in Business, The Diversity Index (AMACOM) is a well-researched exposé on just how little diversity exists in Fortune 500 companies, where just 13 chief executives are women. Silver medalist Break Your Own Rules (Jossey-Bass) urges women to think differently about "six faulty assumptions" and change their futures. In Briefcase Essentials (Greenleaf) Susan Spencer explains how a woman's natural ability to communicate, adapt, and be inclusive can help her become a great leader.
"Great books and great business people go together," said awards sponsor and company founder Jerrold Jenkins. "This year's Axiom Award winners offer a realistic outlook on the economy and present many helpful ways to kick-start a new attitude toward achieving success in our businesses and our lives."
Learn more about the Axiom Awards at http://www.axiomawards.com.

- end -
Here are some helpful Axiom Awards links:
Axiom Awards merchandise page:
http://www.jenkinsgroupinc.com/store/index.php?p=catalog&parent=3&pg=1

Seals are available in rolls of 250 and 1000
You may order additional certificates with customized wording.
Hi-res versions of the seal artwork are available for reproducing on book covers and promotional materials
Axiom Awards logo artwork: http://www.independentpublisher.com/includes/axiom1.jpg
Axiom Gold medal lo-res artwork: http://www.independentpublisher.com/includes/axiomgold.jpg
Axiom Silver lo-res artwork: http://www.independentpublisher.com/includes/axiomsilver.jpg
Axiom Bronze lo-res artwork: http://www.independentpublisher.com/includes/axiombronze.jpg
Targeted Media Release program:
A comprehensive media list and press release service offered by Jenkins Group to deliver maximum exposure to regional and national media at a fraction of the cost of traditional publicity campaigns. http://www.targetedmediarelease.com

Axiom Awards blurbs:
"The Axiom Business Book Awards are intended to bring increased recognition to exemplary business books and their creators, with the understanding that business people are a very well-read and informed segment of the population, eager to learn about great new books that will inspire and inform them, and help them improve their careers and businesses."
"The Axiom Awards are presented by Jenkins Group, a Michigan-based book publishing and marketing services company that has operated the popular Independent Publisher Book Awards contest since 1996. Founder Jerrold R. Jenkins is the author of two books on the business of publishing: Inside the Bestsellers and Publish To Win."
---
Comments
---