Whether to investigate a new career or to decipher your 401-K, these Axiom Business Book Award-winning books cover a breadth of subject matter and business topics to help readers learn, see, and work differently to improve their careers and businesses. The awards offer a platform for today's leading business voices to bring knowledge and confidence to the business book reading public.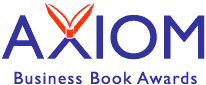 We need cutting-edge, award-winning business books to educate and inform ourselves about how the financial meltdown happened, how to keep the recovery moving, and how to keep it from happening again. As it says on the Axiom Award medals, "Laurus Lego Erudito," or "Success Through Knowledge."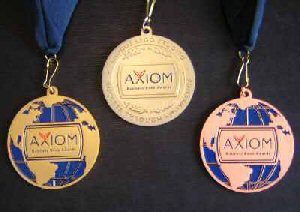 "With so many large companies currently downsizing, there's a more entrepreneurial climate in the business world today," says Jenkins. "All kinds of new enterprises are being created by some very talented people, and they keep up on the latest trends and new ideas through reading. These awards are meant to bring great books and great business people together."
Independent Publisher on Instagram
Feature
Axiom Awards 2013 Press Page
Jenkins Group is proud to announce the winners of the sixth annual Axiom Business Book Awards. These gold, silver and bronze medal-winning books make up an incredible reading list - an informative and entertaining list that represents a wide range of business topics, created by a diverse collection of authors and publishers.
* * * * *
Here is the official Axiom Awards press release that went out to the business and publishing media, followed by important links and other info.
Thanks to all participants for supporting the Axiom Business Book Awards!
=========================
FOR IMMEDIATE RELEASE
=========================
Contact: Jim Barnes, Awards Director
1-800-644-0133 x.1011jimb@bookpublishing.com

Axiom Business Book Award Winners for 2013 Announced
Here are 69 outstanding business books to inform and entertain
(Traverse City, MI, Mar. 26, 2013) The stock market is up, unemployment is down, and home sales are finally starting to rise. There's plenty of bad news, too, especially from Europe… How does a person make sense of such a complicated economy? Read more award-winning business books!
Jenkins Group is proud to announce the results of the sixth annual Axiom Business Book Awards, honoring the best business books published during the past year. The winning books epitomize the Axiom Award motto, "Success through Knowledge," by offering a wide array of business information and tools.We all want to do better business, and the Axiom medalists will help business people young and old succeed in a fast-changing world.
If you're a baby-boomer worried about retirement savings, The Big Retirement Risk will calm your nerves, as author Erin Botsford maps out your expenses into a "House of Security" with four floors: Needs, Wants, Likes and Wishes. If you're a young entrepreneur trying to balance work and family, take some advice from Inc. magazine columnist Meg Cadoux Hirshberg, author of For Better or for Work, who in her chronicle of living and working with husband and co-founder of superstar organic producer Stonyfield Yogurt warns, "There may be no faster route to upsetting your spouse than behaving as if your time is more valuable than his – even if from a revenue standpoint that happens to be true."
This year's Axiom Award-winning books will help readers understand a full range of changing trends and technologies affecting the business world and point out opportunities in the new economy. The authors of Trillions: Thriving in the Emerging Information Ecology explain how we're going beyond using computers, and are now living in a world of computation that is "blending the digital and physical world into one seamless whole." They say our obsession with computer literacy is backward -- it's time for computers to become "human literate" -- and businesses that can eliminate technological boundaries for their customers will prosper.
What does it take besides tech savvy to thrive in business today? Heart, Smarts, Guts, and Luck, say the authors of this book designed to help you understand which trait to dial up and achieve your full potential. They explain the traits (Smarts-dominant like Warren Buffett; Guts-dominant like Richard Branson) and provide an Entrepreneurial Aptitude Test to determine your own profile.
"This year's Axiom Award winners come from talented authors and publishers of all sizes from all over the English-speaking world," said awards sponsor and company founder Jerrold Jenkins.
"Reading good business books should be part of every serious business person's routine, and we are proud to bring this list of quality titles to the attention of motivated readers."
See the complete listing of all the winners online at http://www.independentpublisher.com/article.php?page=1641.
Learn more about the Axiom Awards at http://www.axiomawards.com.

- end -
Here are some helpful Axiom Awards links:

Axiom Awards press release PDF version:
http://www.AxiomAwards.com/Axiom_ResultsPR_2013.pdf

Axiom Awards results listing PDF version:
http://www.AxiomAwards.com/Axiom_Results_Listing_2013.pdf
Axiom Awards merchandise page:
http://www.jenkinsgroupinc.com/store/index.php?p=catalog&parent=3&pg=1

Seals are available in rolls of 250 and 1000
You may order additional certificates with customized wording.
Hi-res versions of the seal artwork are available for reproducing on book covers and promotional materials
Axiom Awards logo artwork: http://www.independentpublisher.com/includes/axiom1.jpg
Axiom Gold medal lo-res artwork: http://www.independentpublisher.com/includes/axiomgold.jpg
Axiom Silver lo-res artwork: http://www.independentpublisher.com/includes/axiomsilver.jpg
Axiom Bronze lo-res artwork: http://www.independentpublisher.com/includes/axiombronze.jpg
Targeted Media Release program:
A comprehensive media list and press release service offered by Jenkins Group to deliver maximum exposure to regional and national media at a fraction of the cost of traditional publicity campaigns. http://www.targetedmediarelease.com

Axiom Awards blurbs:
"The Axiom Business Book Awards are intended to bring increased recognition to exemplary business books and their creators, with the understanding that business people are a very well-read and informed segment of the population, eager to learn about great new books that will inspire and inform them, and help them improve their careers and businesses."
"The Axiom Awards are presented by Jenkins Group, a Michigan-based book publishing and marketing services company that has operated the popular Independent Publisher Book Awards contest since 1996. Founder Jerrold R. Jenkins is the author of three books on the business of publishing: Inside the Bestsellers, Publish To Win, and The Independent Publisher: How to Build and Promote Your Best-Selling Book.."
---
Comments
---